Find out how our attachment styles are intimately tied with our confidence in ourselves and in others! 
Have you ever wondered why your relationships are getting all screwed up one after the other? Have you ever putzed around the online websites, looking for why you're failing in your love life? Then you must've also come across the concept of Attachment theories. Attachment is referred to as an area of Psychology, which begins first with our attachment to our parents. And this in turn, impacts the attachment to our romantic partners in the later stages of our life. Simply put, your attachment style may reveal a whole lot of facts about why you're facing those same relationship dramas with your bae, over and again.
But the good news today is that your attachment style may change over time. So how do we recognize the kind of attachment style we're falling under? Let's dig in. 
How are Attachment Styles Formed?

Like I said, our attachment styles as adults are influenced by how we relate to our parents. And this in turn sets the blueprint for how we observe all relationships as we mature. But remember: it's not the only factor that determines your attachment style (though it's a big one).
For instance, anxious types receive love and care with unpredictable adequacy as infants. This is why while growing up, they have positive views of their peers but negative views of themselves. Hence the 36 calls over night when you don't pick up their phone. Whereas, avoidants are those who probably have got only some of their needs met as infants, while the rest of them were looked down upon. So, they grow up holding a negative view of others but a positive view of themselves.
Also Read: Love Lessons That Korean Dramas Taught Me
Kinds of attachment styles
The four most common attachment styles today, are secure, anxious, avoidant and anxious-avoidant. So, let's take a deep dive to know more about each one of these, in detail.
#1 Secure Attachment Style

People belonging under this category are usually found to be comfortable enough in being alone and independent. They've a strong level of self-confidence, and are capable of drawing distinct boundaries when their situation calls for the same. Studies reveal that over 50% of the population today are secure attachment types, which is kinda huge, tbh!
#2 Anxious Attachment Style
Anxious attachment types get extremely troubled being alone or single. And this is why they submit to abusive relationships more often. These people are overhyped, dramatic, and can even burst into tears if you do not call back even after receiving 36 missed calls, in one go! They may also follow you to your workplace just to make sure whether you're flirting with anyone else. Frankly, there are a whole lot of insecurities going around, among the anxious types.
#3 Avoidant Attachment Style
Avoidant types are independent, confident, but often uncomfortable with intimacy. You can also term them as commitment-phobes. Not to forget, they're the ones who have mastered the skills of exit strategy, complaining all the time about how they feel 'crowded' or 'suffocated' in their relationships.  For instance, a man in spite of working 80 hours a week getting infuriated when the woman he dates wants to see him once, or the girl who dates dozens of guys ends up ditching them all and doesn't want anything serious, fall under the avoidant types.
#4 Anxious-Avoidant Attachment Style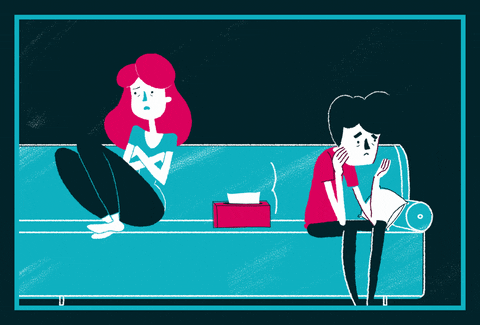 Last but not the least, anxious-avoidant sometimes referred to as maladaptive attachment styles. Anxious-avoidants are not only afraid of intimacy and commitment, but they lash out emotionally at anyone who tries to get close to them. This can be very challenging for those around them as the anxious end of this personality will prefer brush issues under the rug over and over again.
What's Your Attachment Style?
Simply put, if you're avoiding commitment, your romantic partners or shutting them out without any particular reason, you're avoidant. Whereas, if you're constantly tense about your partner(s), feel like they don't love you as much as you love them and want to see them 24/7, then you're probably anxious. And lastly, if you're comfortable being intimate and able to draw boundaries, then you're the secure type. But in case you aren't sure yet, about what your attachment style is, consider taking this test (takes maybe about eight to ten minutes).
However, there may be some individual differences in how strongly we identify with each attachment style. For example, you might be secured and attached in some areas but have some anxious or avoidant tendencies in others. 
So amid all these attachment strategies, in case you want to elicit an all-round sensual experience and amp up your ambience even more, go ahead with Glow Arousing. An aromatic massage oil that has a light blend of aphrodisiac aromas helps boost arousal and tackle low libido. While aromatic massage oils like Glow Arousing can be used by everyone to heighten pleasure, they have been particularly beneficial for the vulva-owners. So, show your body some love and pamper with a glow that shines from the inside out!
Bottomline
We, at MyMuse believe, that there are a very few things more romantic, in its truest sense, than a couple who have learnt to tell one another with composure that they have been triggered in an avoidant or an anxious direction, but are doing everything they can to get on top of things – and hope to be normal again in a little while. 
So for any further queries drop us your questions at musings@mymuse.in and we'd like to discuss with you, whether you're able to recognize your attachment style or not!
Also read : Boo Who? What to Say When You've Been Ghosted

Go all out for bae with: