We have scoured the internet to bring you some wholesome love stories that will give you all the feels and leave you with a big ol' smile on your face!
Have you ever noticed how queer relationships have this magical ability to make us feel all warm and fuzzy inside? It's like they give us a hopefulness that's just unmatched! But while pop culture tries to show LGBTQ couples and queer relationships in a positive light, they often throw in some plot twists full of struggle and darkness. It's like they can't resist adding a little drama! And while that might reflect the reality of being out and proud, sometimes you just want to read or watch a love story with a smooth happy ending. Well, fear not, because we've scoured the internet to bring you some wholesome love stories that will give you all the feels and leave you with a big ol' smile on your face!
Win-Win
"I was hosting this Intercollegiate competition that my college was hosting, and this gorgeous man signed up to compete. I started chatting him up, and he kept taking the bait and responding even more enthusiastically. He even won the debate competition, which gave me the perfect excuse to congratulate him and take some pics with him. We only had a few chats over the three-day event, but we hit it off during the DJ night, we danced like maniacs. But since the competition was over, it meant we had to go our separate ways. I figured if he wanted to be friends, he could hit me up. He texted the same night! We started dating on the 11th day and became official after a month. Fast forward four and a half years, and we're still going strong."
No Sex, All Love
"Picture this: It was the first year of my MBA and I was still grappling with my bisexuality. But there she was, the girl of my dreams, with her nerdy glasses and flowy kurtis - cuteness overload! One wild night, I stumbled back to her hostel room, drunk AF and boldly asked her to get down and dirty with me. But she straight up rejected and said that she was not doing anything while I was drunk! Instead, we snuggled the night away, and that's how our epic love story began. We just celebrated our 2nd anniversary recently! Who says drunken confessions don't lead to happily ever afters?"
Also Read: Neurodivergent & Queer: Exploring The Intersection Of Spectrums
A Tinder Love Story
"I was at a party and this dude with some serious eyeliner game caught my eye. I mean, how often do you see an Indian guy slaying the eyeliner like that? Sadly, we did not get to talk. But a few days later, guess who showed up on my Tinder? Yup, Mr. Eyeliner himself. I swiped right so fast and lucky for me, so did he. He suggested we had samosas for our first date. I knew right then and there that he was a keeper. And even though we're now doing the long-distance thing since we moved back to our hometowns, thanks to the dreaded C-word (COVID), we're making it work!"
LOLs And Love
"We met online through a dank meme page on Facebook and hit it off quickly. Our humor was in sync, and we slowly started texting each other beyond memes. A few months later, he moved to Hyderabad for his job and we met up- there was an instant spark! We texted non-stop and started going on more dates. Fast forward to now, and I still get butterflies when he says "I love you" (which took us a whole year to say, BTW). Our families don't know about us, but we're working on changing that."
Picture Perfect!
"So, I was a newbie in Mumbai, searching for a job and exploring the city through my lens. In a crowded market, I collided with a cute chick. And guess what? She was an artist too! Her thing was making portraits of random folks she met. We hit it off and bonded over our mutual love for the arts. I found myself more and more drawn to her every passing day. But I had no idea if she felt the same way. So, after our fifth meeting, I decided to take the leap of faith and ask her out. She said yes! Our first date was at a cute little café where we laughed, and talked, with our coffee and sandwiches for hours. Now, I get to explore the city and make art with her everyday…it's nothing short of a dream."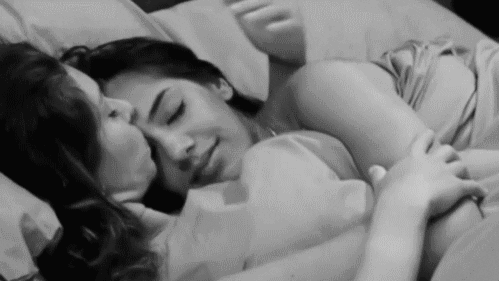 Feeling full of love after reading these queer relationship stories? We hope you find someone to share the handheld body massager Palm with. Do check out these 36 Questions To Fall In Love and find your boo!
For more love dose, check out